Bursa Malaysia Snaps 3 Days Of Losses To End At Intraday High
Last update: 21/11/2023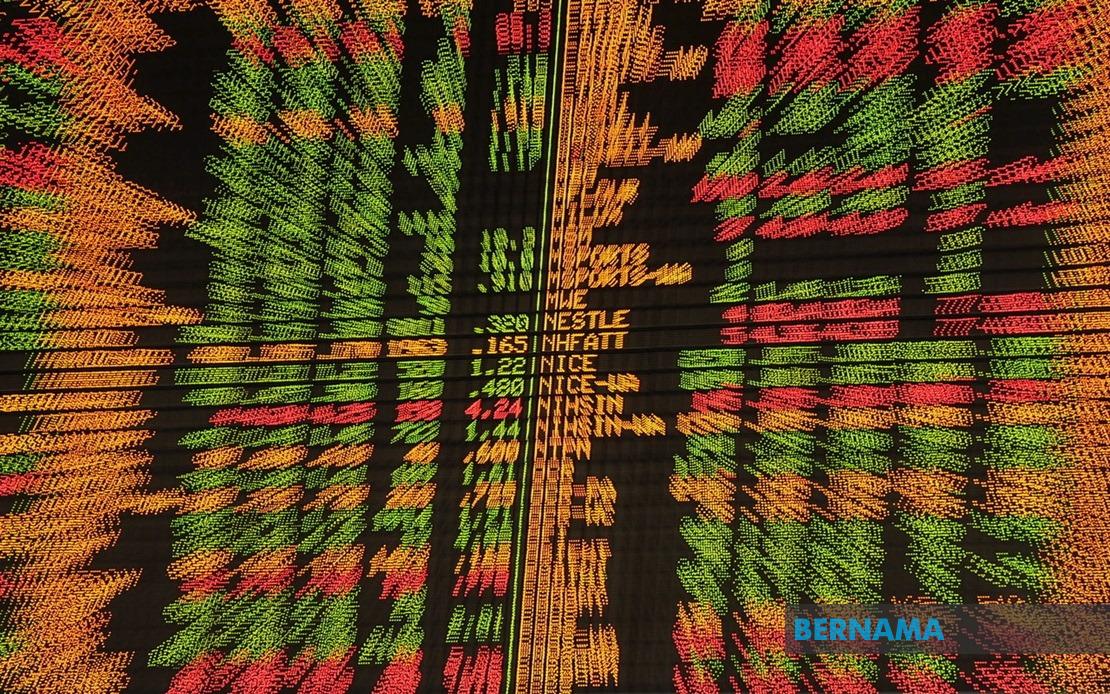 By Anas Abu Hassan
KUALA LUMPUR, Nov 21 (Bernama) -- Bursa Malaysia snapped three consecutive days of losses to end at its intraday high today, as bargain hunting activities emerged following the recent sell-off.
At 5 pm, the FTSE Bursa Malaysia KLCI (FBM KLCI) rose 6.48 points to 1,463.40 from yesterday's closing of 1,456.92.
The barometer index opened 1.21 points higher at 1,458.13 and slid to a low of 1,456.16 in the morning session before climbing to 1,463.40 in the final trading hour on late buying.
The market breadth was positive, with gainers leading decliners 500 to 411, while 472 counters were unchanged, 991 untraded and nine others suspended.
Turnover widened to 3.66 billion units valued at RM2.11 billion from 3.23 billion units valued at RM1.70 billion yesterday.
Rakuten Trade equity research vice-president Thong Pak Leng expects the local market outlook to remain stable, driven by the improving corporate earnings and strong fundamentals of the economy.
"For the local bourse, we advise investors to stay cautious ahead of the release of the US Federal Open Market Committee minutes (to be released later today)," he told Bernama.
Thong further noted that the FBM KLCI is expected to trend within the 1,450-1,470 range for the rest of the week.
Among the heavyweight counters, Maybank was unchanged at RM9.11, Public Bank rose six sen to RM4.27, CIMB added two sen to RM5.79, Tenaga gained five sen to RM10.02, and Petronas Chemicals climbed 18 sen to RM7.38.
Of the actives, Hong Seng, Widad and Dagang NeXchange were all unchanged at three sen, 46 sen, and 43 sen respectively, MYEG inched up one sen to 81.5 sen, while Leform lost 2.5 sen to 26.5 sen.
On the index board, the FBM Emas Index increased 39.89 points to 10,830.01, the FBMT 100 Index advanced 39.24 points to 10,488.54 and the FBM Emas Shariah Index climbed 36.48 points to 11,038.29.
The FBM ACE Index went up 13.13 points to 5,208.38 and the FBM 70 Index expanded 22.41 points to 14,365.84.
Sector-wise, the Financial Services Index perked up 64.46 points to 16,423.73, the Energy Index edged up 3.24 points to 863.75, the Plantation Index improved 30.08 points to 7,016.08, and the Industrial Products and Services Index rose 2.45 points to 176.03.
The Main Market volume stood at 2.15 billion units worth RM1.79 billion compared to 2.15 billion units worth RM1.41 billion on Monday.
Warrants turnover surged to 741.11 million units valued at RM92.53 million from 451.48 million units valued at RM70.87 million previously.
The ACE Market volume expanded to 745.51 million shares worth RM219.57 million from 629.63 million shares worth RM220.28 million yesterday.
Consumer products and services counters accounted for 343.40 million shares traded on the Main Market, industrial products and services (362.64 million); construction (136.89 million); technology (677.65 million); SPAC (nil); financial services (74.75 million); property (192.62 million); plantation (29.30 million); REITs (6.85 million), closed/fund (83,500); energy (91.58 million); healthcare (91.50 million); telecommunications and media (26.60 million); transportation and logistics (42.13 million); and utilities (71.05 million).
-- BERNAMA