Fbm Klci Ends Slightly Lower, Broader Market Firmer
Last update: 19/09/2023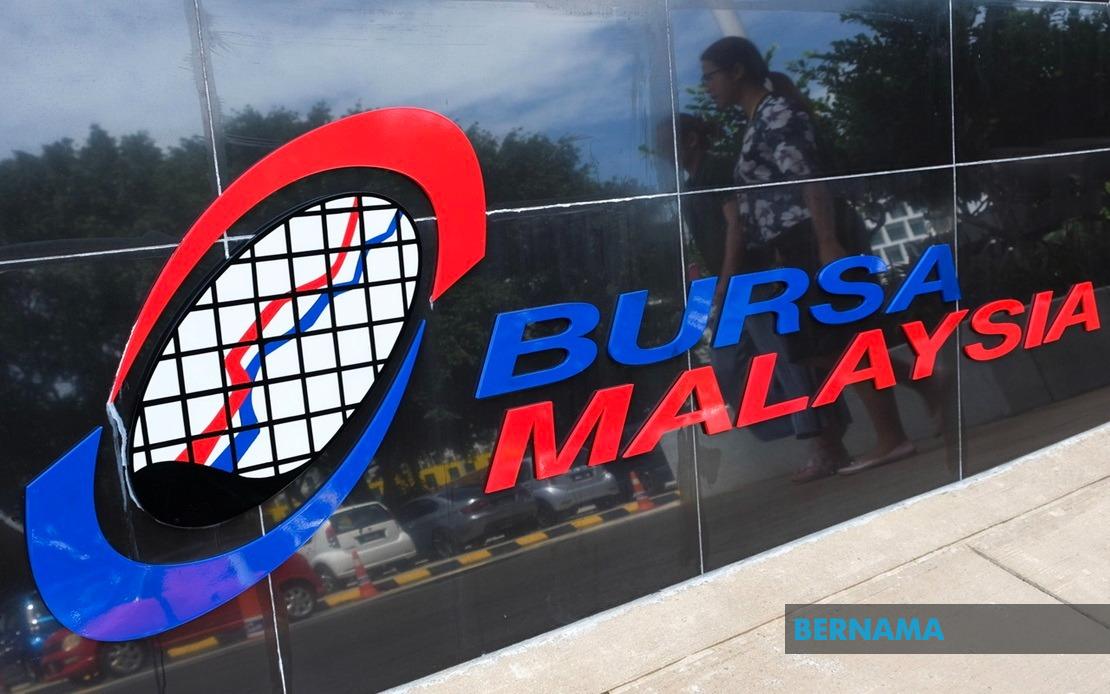 By Siti Noor Afera Abu
KUALA LUMPUR, Sept 19 (Bernama) -- Bursa Malaysia's key index ended slightly lower after a bumpy trading session while the broader market was firmer on lack of buying interest as investors focused on small- and mid-cap stocks.
At 5 pm, the FTSE Bursa Malaysia KLCI (FBM KLCI) fell 0.33 of-a-point to 1,457.66 from Monday's close of 1,457.99.
The index opened 1.27 points lower at 1,456.72 and moved between 1,454.61 and 1,459.0 throughout the day.
The broader market was positive with advancers outpacing decliners 519 to 406, while 453 counters were unchanged, 996 untraded and 11 others suspended.
Turnover was marginally higher at 3.95 billion units worth RM2.14 billion from 3.38 billion units worth RM2.12 billion on Monday.
Rakuten Trade Sdn Bhd equity research vice-president Thong Pak Leng said key regional indices finished mostly lower due to cautious trading ahead of the Federal Open Market Committee (FOMC) meeting on Wednesday while the Bank of Japan (BoJ) will announce its interest rate policy on Friday.
Brent crude oil continued its rally amid tighter supply, stoking worries about stagflation, Thong told Bernama.
Back home, the benchmark is well-supported thanks to the return of foreign funds.
"Despite the cautious market undertone in the region, we expect bargain hunting will prevail given the cheap valuation of local stocks, persistent support from local institutions and the return of foreign funds.
"We therefore maintain our weekly FBM KLCI target at the 1,450-1,465 range with immediate resistance at 1,465 and support at 1,445," he said.
At the close, Bursa heavyweights Maybank lost two sen to RM8.91, CIMB fell one sen to RM5.75, while Petronas Chemicals added three sen to RM7.30.
Both Public Bank and Tenaga Nasional were flat at RM4.20 and RM5.97, respectively.
Of the actives, KNM, Icon and Bumi Armada were 1.5 sen higher at 12 sen, 13 sen and 57 sen, respectively, and ACE Market debutant Mercury Securities gained five sen to 30 sen.
Meanwhile, Sapura Energy decreased half-a-sen to 5.5 sen.
On the index board, the FBM Emas Index advanced 3.68 points to 10,766.0, the FBMT 100 Index rose 2.12 points to 10,436.76, the FBM 70 Index improved 22.71 points to 14,248.71, the FBM Emas Shariah Index strengthened 4.29 points to 10,999.93 and the FBM ACE Index widened 16.49 points to 5,205.93.
Sector-wise, the Plantation Index decreased 20.93 points to 6,956.67, and the Financial Services Index was 21.08 points weaker at 16,319.96.
Meanwhile, the Industrial Products Services Index firmed 0.75 of-a-point to 173.69 and the Energy Index inched up 15.23 points to 907.77.
The Main Market's volume increased to 2.73 billion units worth RM1.86 billion from 2.34 billion units worth RM1.90 billion on Monday.
Warrant turnover was reduced to 325.42 million units valued at RM47.27 million against 389.64 million units valued at RM51.71 million previously.
However, the ACE Market volume improved to 880.24 million shares worth RM229.12 million from 575.09 million shares worth RM166.77 million previously.
Consumer products and services counters accounted for 281.55 million shares traded on the Main Market, industrial products and services (394.81 million); construction (140.90 million); technology (162.80 million); SPAC (nil); financial services (47.77 million); property (459.79 million); plantation (41.29 million); REITs (74.85 million), closed/fund (32,400); energy (976.69 million); healthcare (72.03 million); telecommunications and media (23.41 million); transportation and logistics (57.16 million) and utilities (69.89 million).
-- BERNAMA