SME Bank going beyond financing, to offer more digital platform services
Last update: 25/08/2019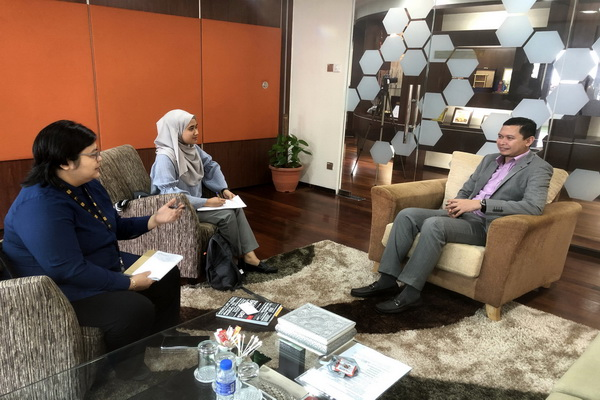 Small Medium Enterprise Development Bank Malaysia Bhd (SME Bank) group president and chief executive officer Aria Putera Ismail (right) during interview with Bernama recently. Pic: ROSEMARIE
By Rosemarie Khoo Mohd Sani
KUALA LUMPUR, Aug 25 -- Small Medium Enterprise Development Bank Malaysia Bhd (SME Bank), an agency under the Entrepreneur Development Ministry, has embarked on a digital transformation programme to offer new facilities and solutions to SMEs and their ecosystem, in a bid to transcend beyond financial services.
Group president/chief executive officer Aria Putera Ismail said through its two-year Accelerated Programme 2019-2020 which took off late last year, the bank had set new directions and initiatives to improve its services, including the National SME Digital Platform, in line with the National Entrepreneurship Policy 2030 (DKN 2030) to empower the adoption of innovative technology.
"Under the National SME Digital Platform, there are four components that the bank will be introducing in the near future, in which SMEs will not only have more accessibility to financing and parties that can develop them but also assist them as well as micro-entrepreneurs on how they can move on to the next level and grow to become a big player someday.
"We would like to also ensure that under this new direction, each ringgit that we spent will create a secondary impact on building a higher contribution to the country's gross domestic product (GDP) in line with the DKN 2030," he told Bernama.
Aria said two of the components, namely insightXcess and scoreXcess, will be launched in the third quarter (Q3) of this year, while the other two -- payXcess and bizXcess, were targeted for launch by Q1 2020.
He said insightXcess would enable SME Bank to understand the market environment and trends that would allow it to better serve the needs of the SMEs, while the scoreXcess is a digital score card platform that provides pre-approval review leveraging on artificial intelligence (AI) technology for relevant agencies when they received applications for financing from the SMEs.
This will be a game changer whereby accessibility to financing will be more efficient and faster.
Aria said payXcess was deemed to function as a digital current account, facilitating disbursement by the agencies, as well as profiling its clients through the SME's Life Value to facilitate the agencies to identify the suitable development programme for the SMEs to grow to the next level based on their financing track record.
"However, we can only confirm the launch once we have met all requirements and approval from Bank Negara Malaysia.
"As for the fourth component, bizXcess, it will not only provide an e-marketplace for business-to-business (B2B) to market their product and services but also acts as an e-procurement processing centre," said Aria.
Asked on the capital expenditure that SME Bank has allocated for its digitalisation journey, he said the bank had not incurred a large sum of capital because the initiatives were done through strategic partnerships with private entities.
"We are getting support and commitment from our partners to provide the platforms mentioned, without us having to invest in terms of monetary cost. This is important as it validates and confirms our business model is workable and achievable," he said.
Besides, Aria is also optimistic that the digital transformation would help the bank to create a new income stream while making it more sustainable and relevant.
"We also want to position ourselves as a bank that provides impact-based financing to the SMEs and generates a multiplier effect on the Malaysian economy in terms of revenue, profitability, and employment," he added.
-- BERNAMA