UMSC Engage In Talk With Private Insurance Agencies
Last update: 02/05/2019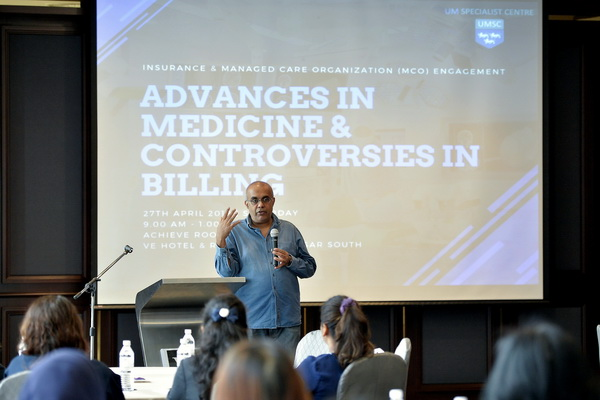 UMSC Medical Director Prof Dr Vicknes Waran delivering a speech during Dialouge Session Advances in Medicine and Controversies in Billing at Bangsar South recently.
By Nurul Hannah Mohd Yusof and Sivanandini Narayanen
KUALA LUMPUR, May 2 (Bernama) -- Universiti Malaya Specialist Centre (UMSC) engaged in talks with senior representatives from various insurance and managed care organisations (MCO) on 'Advances in Medicine & Controversies in Billing' at VE Hotel & Residence, Bangsar South recently.
The objective of the two-way forum is to update the insurers the advanced state of the art procedures and team- based approach offered by UMSC for better patient results, and for the insurance industry and MCO's to recognize the rationale for the treatments offered to serve their clients better.
The senior hospital consultants shared and presented the details for a 'team-based approach', and the sophisticated equipment used to remedy patients for improved patient outcome and satisfaction. The individual doctors explicitly clarified the basis and the need to do so. The presentations shared by the doctors were - Plastic and Reconstructive Surgery, Interventional Pain Management, Redefining Surgical Boundaries in ENT Head & Neck Surgery, Complex Surgery in Orthopaedic Oncology & Need for the Second Surgeon, Advanced Endoscopic Techniques-Complex Bile Duct Case and Pituitary & Skull Base Surgery Intraoperative Imaging. It was an eye-opener for all present to appreciate the treatment methodology offered by UMSC.
The current medical coding system under Malaysian Medical Association (MMA) does not support advanced medical treatments. The compensation given to the surgeons are not appropriate to what already has been done. The current coding system does not recognise some of the newer procedures, while changes are in the making in the interest of the advancement of medical care that Malaysians can enjoy. The state of the art procedures ensures that medicine practiced in Malaysia can be at the cutting edge.
UMSC Consultant Plastic and Reconstructive Surgeon, Associate Professor Dr Alizan Abdul Khalid said that the existing code is quite old and needs to be revised, but unfortunately the process takes a lot of time and effort.
According to UMSC Consultant Orthopaedic Surgeon, Professor Dr Vivek Ajit Singh in a interview, "There was a lot of exchange of ideas between the representatives of the insurance companies and the specialists from UMSC on a variety of issues.
"By clearly understanding what is behind the patient's treatment procedure, and comparing the difference between the old and new treatment approach, it would certainly assist the insurance industry to engage and pay the doctors fairly. All parties present at this forum were able to clarify the grey areas related to the consultants compensation. This forum organised by UMSC is much appreciated" said Dr Ang Tze Yeow, Vice President and Head Healthcare Services of Great Eastern Life Assurance (Malaysia) Berhad.
--BERNAMA