5 LIAM CEOs conferred prestigious MII Fellowship
Last update: 12/11/2018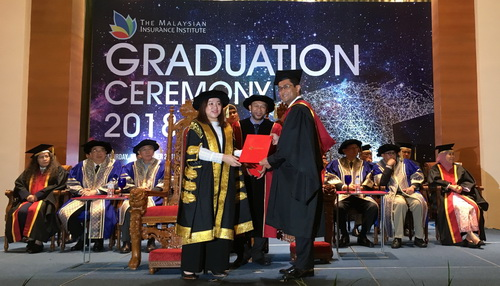 LIAM Vice President, Rangam Bir receiving the prestigious Fellowship of the Malaysian Insurance Institute (FMII) from Director of Insurance Development Department, Bank Negara Malaysia Lau Chin Ching, and witnessed by CEO of Malaysian Insurance Institute Datuk Syed Moheeb Syed Kamarulzaman, at the Graduation Ceremony in Lanai Kijang, Bank Negara Malaysia.
KUALA LUMPUR, Nov 12 (Bernama) -- Five Chief Executive Officers (CEOs) of Life Insurance Association of Malaysia (LIAM) member companies have been conferred the Fellowship of the Malaysian Insurance Institute (FMII).
In a statement here today, LIAM said the FMII fellowship, which is the most prestigious and highest level of professional insurance qualification in Malaysia, was presented to the CEOs at the Malaysian Insurance Institute graduation ceremony 2018 at Lanai Kijang, Bank Negara Malaysia last Saturday.
The recipients are LIAM President and CEO of AIA Bhd Anusha Thavarajah; LIAM Vice-President and CEO of Gibraltar BSN Life Bhd Rangam Bir; LIAM Management Committee member and CEO of Sun Life Malaysia Assurance Bhd Raymond Lew Yung Chow; and CEO of AXA AFFIN Life Insurance Bhd Rohit Chandrasekharan Nambiar.
Another LIAM Management Committee member, CEO of Great Eastern Life Assurance Bhd Datuk Koh Yaw Hui, was the first CEO to receive the FMII award in August 2017.
LIAM said attaining fellowship member status of the Malaysian Insurance Institute reflects the achievement and professional standing of the CEOs.
It confirms their commitment to continuing professional development of the insurance profession and added weight to their credentials, added LIAM.
LIAM President Anusha Thavarajah said, "The FMII is a pinnacle recognition of professionalism in the industry which is tailored to the needs of the business. It provides graduates a firm and strong grounding in insurance fundamentals and equips them to acquire a higher level of competency, skills and knowledge to excel in this fast- changing industry.
"As professionals, it certainly motivates us to work harder and give our best to the industry."
LIAM Vice President Rangam Bir hoped the fellowship achievement would inspire many more CEOs as leaders to emulate and encourage them to continuously raise the professional standards in the industry.
"As the saying goes, learning has no age limit. It is only through continuous learning that we can add value to our lives and keep ourselves motivated to aspire for higher goals with the desire for more knowledge and self-improvement," Rangam added.
Since its launch in 2016, a total of 48 CEOs and senior industry leaders have attained the FMII award, including 39 from Malaysia, seven from Indonesia, and one each from Cambodia and Myanmar.
The FMII is open to CEOs, senior leaders of insurance companies, individuals who contribute significantly to the development of the insurance industry and individuals who can add value and have a direct connection to the insurance profession.
The FMII senior route includes three main steps namely Fellowship Enrolment by attending two workshops on Ethics in Business (EIB) and Caselet writing (CW).
The graduates are also required to pass the EIB assignments and to submit a Caselet to the Malaysian Insurance Institute.
--BERNAMA