Traditional Businesses Face Tough Competition In Digital Sharing Economy
Last update: 06/09/2018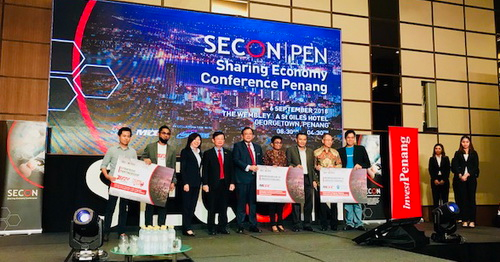 GEORGE TOWN, Sept 6 (Bernama) -- As the digital sharing economy begins to thrive in the global market, traditional businesses are finding themselves facing tougher competition, with hotels competing against AirBnB, or local taxi services against e-hailing services such as Uber and Grab.
As such, Malaysia Digital Economy Corporation Sdn Bhd (MDEC) Chief Operating Officer Datuk Ng Wan Peng said traditional companies should strive to improve and adapt to the new business trend.
"If traditional businesses are willing to adapt and engage in digital transformation, not only will their businesses not get ousted from the market, they will also be able to profit from it as well," she told a press conference at the Sharing Economy Conference Penang 2018 here, today.
In order to assist traditional businesses in establishing a structural approach to digital transformation, Ng said MDEC had launched the Digital Transformation Acceleration Programme, an outcome driven programme for large and mid-tier companies to help businesses achieve productivity gain, reduce foreign labour dependency and create new growth sources or business model.
Although there were notable competition between traditional businesses and the digital sharing economy, she said traditional businesses could take advantage of the new business trend as demands have been increasing.
Meanwhile, Penang Chief Minister Chow Kon Yeow, who was the guest of honour at the one-day conference, also endorsed digital transformation for traditional businesses in line with the Penang 2030 action plan which prioritises technological advancement.
"Many participants in the conference today are from the start-up community. I hope to see more start-ups in Penang participating in the sharing economy model and take the opportunity to identify gaps that can be resolved by their start-up company," he added.
-- BERNAMA