UM student wins LIAM's #IDAREYOUChallenge
Last update: 05/09/2018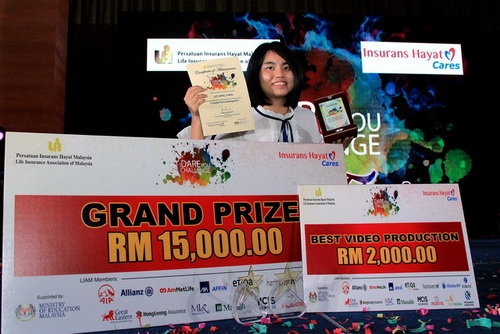 KUALA LUMPUR, Sept 5 (Bernama) -- A solo participant from Universiti Malaya, Lee Ming Ching bagged the grand prize of RM15,000 and the Best Video Award of RM2,000 at the grand finale of the #IDAREYOUChallenge2017, here, recently.
Lee beat nine other finalists from three universities with the most creative business plan and the best video on the topic, "Explain Some Ways On How The Rural Areas And Underinsured Markets Can Benefit From Life Insurance" in the competition organised by the Life Insurance Association of Malaysia (LIAM).
Her proposal won the hearts of the jury with her presentation and research work conducted in her hometown, Pulau Ketam, Selangor, highlighting the need for life insurance and financial protection among the residents.
A total of RM50,000 in cash prizes were up for grabs in the competition launched on Oct 3 last year, which saw the participation of 20 universities and colleges in Malaysia.
The first runner-up was Group Eleven from Asia Pacific University who took home RM7,500 with their winning topic, "Why Is Life Insurance Very Important In Everyone's Life, Especially Today?" They proposed one simple way – "Giving a Gift, as life itself is a Gift."
The second runner-up was another solo participant from the International Advertising, Communication and Technology (IACT) College, who presented his idea on "How Can You Reach Out To Everyone To Have A Life Insurance?" which won him RM4,000.
The People's Choice Video Award which was based on public voting on Facebook went to Stormers, a duo from Universiti Tunku Abdul Rahman (UTAR), Kampar, Perak, who produced a video which won them RM2,000.
At the prize-giving ceremony on Sept 3 at Bank Negara Malaysia, Assistant Governor Nazrul Hisyam Mohd Noh praised LIAM for the innovative effort targeting the millennials and encouraged the industry to have more collaborations with other stakeholders to make the industry more attractive and exciting.
Meanwhile, LIAM president Anusha Thavarajah said the #IDAREYOUChallenge initiative was to realise LIAM's aspiration to be closer to the young generation and raise their awareness of the importance of financial planning and protection which would subsequently help them plan their long-term financial goals as they enter the working world.
LIAM's Industry Promotion Committee chairman Ramzi Toubassy said, "The #IDAREYOUChallenge competition encouraged students to think out of the box, to develop creative and innovative business/marketing plans which focused on the theme - "What Would You Do To Feel Financially Secure?"
"Other than cash rewards, the winners will get recognition and expose themselves to the various career opportunities in the industry."
-- BERNAMA