Bursa Malaysia ends week on mixed note
Last update: 10/08/2018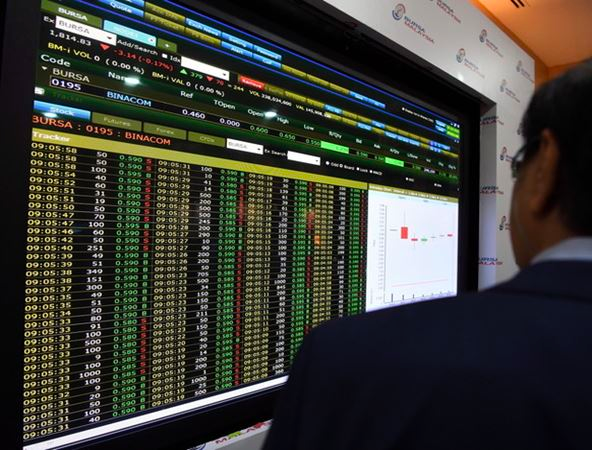 By Niam Seet Wei
KUALA LUMPUR, Aug 10 (Bernama) -- Bursa Malaysia ended the week on a mixed tone today, with gains in consumer and industrial products counters limited by profit-taking.
At 5 pm, the benchmark FTSE Bursa Malaysia KLCI (FBM KLCI) was marginally higher at 1,805.75, up 0.80 of-a-point, from Thursday's close of 1,804.95.
The index opened 0.68 of-a-point easier at 1,804.27 and moved between 1,804.09 and 1,812.69 throughout the day.
Market breadth was negative, with losers outpacing gainers 487 to 402, while 438 were unchanged, 568 untraded and 32 others suspended.
Volume slid to 2.19 billion units worth RM2.04 billion from 2.30 billion units valued at RM2.28 billion yesterday.
Inter-Pacific Securities Sdn Bhd Head of Research Pong Teng Siew said buying support was mainly seen in consumer and industrial products-related stocks which had regained traction among local funds after the 14th General Election (GE14) on May 9.
"For instance, investors have been revisiting Muda, involved in paper and paper packaging industry, which was very popular three months ago before the market took a dip post-GE14.
"The buying momentum had pushed up the market today," he told Bernama.
However, Pong noted that the uptrend was capped by profit-taking by retail investors who took money off the table from recent gains.
"Retail investors who have bought stocks like Frontken or MRCB or some other small-cap stocks have positioned themselves to sell right now," he added.
Of the heavyweights, Petronas Chemicals inched up one sen to RM9.21, Public Bank, Tenaga and CIMB were unchanged at RM24.40, RM15.78 and RM5.93, respectively, while Maybank gave up one sen to RM9.89.
Among actives, MRCB rose four sen to 87 sen, Foundpac went up three sen to 41 sen, Key Asic improved half-a-sen to 22 sen while both Borneo Oil and Nova MSC were flat at six sen and 18 sen, respectively.
Top gainers were dominated by consumer and industrial products-related stocks; BAT surged 50 sen to RM34.80, Hartalega climbed 22 sen to RM6.60, Cahya Mata advanced 19 sen to RM3.54, Muda gained 17 sen to RM2.00 while plantation stock United Plantations rose 48 sen to RM27.68.
The FBM Emas Index climbed 3.61 points to 12,770.49, the FBM Emas Shariah Index garnered 9.60 points to 12,948.88 and the FBM Ace Index was 47.83 points better at 5,549.40.
The FBMT 100 Index added 3.31 points to 12,546.84 but the FBM 70 fell 5.41 points to 15,588.78.
Sector-wise, the Plantation Index perked up 8.65 points to 7,712.83 but the Finance Index slid 5.27 points to 17,576.18 and the Industrial Index fell 6.23 points to 3,269.35.
Main Market volume fell slightly to 1.41 billion shares worth RM1.84 billion from 1.47 billion shares valued at RM2.06 billion on Thursday.
Warrants turnover was lower at 404.61 million units worth RM112.24 million against 443.42 million units valued at RM101.92 million yesterday.
Volume on the ACE Market fell to 369.92 million shares worth RM90.41 million versus 385.04 million shares valued at RM117.24 million yesterday.
Consumer products accounted for 125.14 million shares traded on the Main Market, industrial products (268.67 million), construction (85.74 million), trade and services (522.40 million), technology (147.78 million), infrastructure (11.98 million), SPAC (271,000), finance (49.32 million), hotels (2.10 million), properties (169.79 million), plantations (25.93 million), mining (23,300), REITs (6.55 million), and closed/fund (5,500).
-- BERNAMA