Bursa Malaysia opens marginally higher after long weekend
Last update: 25/01/2023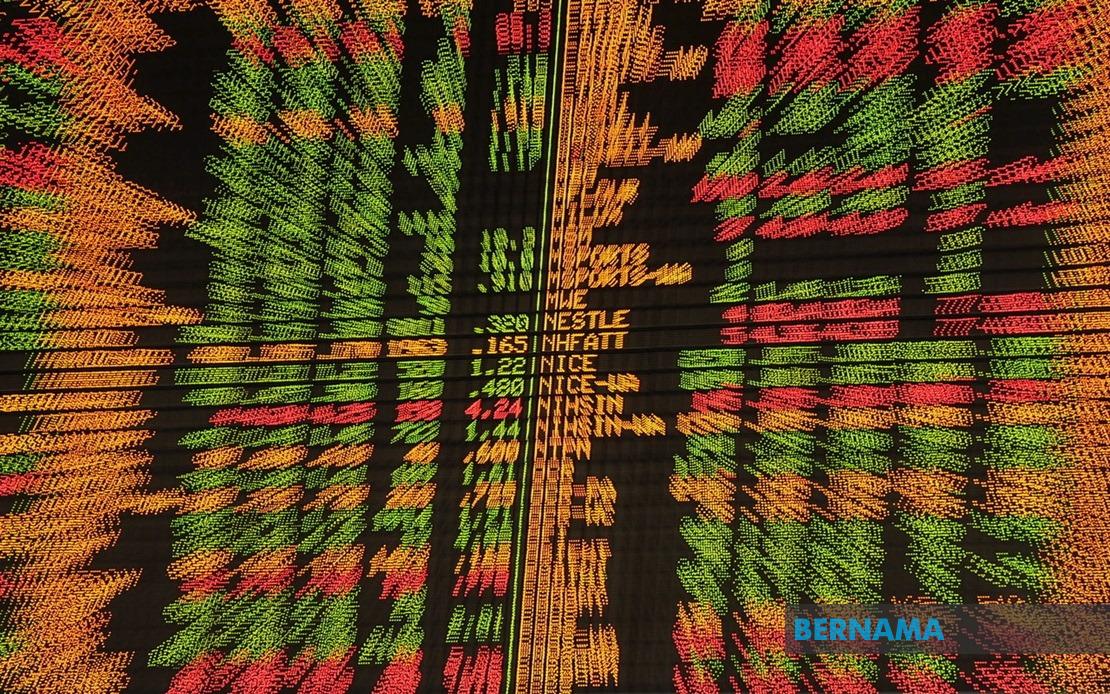 KUALA LUMPUR, Jan 25 (Bernama) -- Bursa Malaysia opened marginally higher today after a long weekend due to the Chinese New Year holidays, trading cautiously, taking the cue from the United States (US) stocks which closed little changed on Tuesday.
Investors are still digesting the Federal Reserve Bank of Richmond's weak manufacturing index and a mixed set of earnings releases for market direction, dealers said.
At 9.05 am, the benchmark FTSE Bursa Malaysia KLCI (FBM KLCI) edged up 0.07 of-a-point to 1,500.40 from 1,500.33 at last Friday's close.
The market bellwether opened 0.97 of-a-point better at 1,501.30.
In the broader market, gainers led decliners 205 to 94, while 232 counters were unchanged, 1,665 untraded and nine others suspended.
Turnover amounted to 110.87 million units worth RM55.52 million.
Malacca Securities Sdn Bhd expected the trading activities to be muted amid the holiday- shortened trading week as most investors could still be enjoying the break.
Nevertheless, it said bouts of upsides are to be expected with traders taking further positions in riskier assets following Bank Negara Malaysia's unexpected move to maintain the Overnight Policy Rate (OPR).
Commodities wise, Brent crude oil slipped to close around US$86 a barrel while the crude palm oil (CPO) price is approaching RM3,900 a tonne, it noted.
"For sectors in focus, the oil and gas and plantation sectors may garner trading interests with CPO price recording three consecutive sessions of recovery, while Brent oil is firmly higher due to the higher demand from the reopening theme.
"Also, construction and building materials related stocks could turn more positive under the improving labour conditions. Meanwhile, with the freight rates normalising and the weaker Baltic Dry Index, the shipping-related stocks may turn less attractive," it added.
Among the heavyweights, Petronas Chemical added six sen to RM8.56, Tenaga Nasional gained five sen to RM9.50, CIMB eased four sen to RM5.73, while Maybank and Public Bank were flat at RM8.80 and RM8.56 respectively.
As for the actives, Nationgate rose four sen to RM1.22, Cosmos Technology improved three sen to 58.5 sen, Industronic shed one sen to 6.5 sen while CSH Alliance and Vinvest Capital were flat at seven sen and 20 sen respectively.
On the index board, the FBM Emas Index perked 11.63 points to 10,854.11, the FBMT 100 Index strengthened by seven points to 10,540.78 and the FBM Emas Shariah Index climbed 16.30 points to 11,109.92.
The FBM 70 Index rose 26.84 points to 13,533.49 and the FBM ACE Index advanced 29.86 points to 5,585.94.
Sector-wise, the Financial Services Index slid 0.68 of-a-point to 16,534.45, the Industrial Products and Services Index inched up 0.70 of-a-point to 189.06, the Plantation Index improved 0.62 of-a-point to 6,882.04, and the Energy Index bagged 2.15 points to 847.96.
-- BERNAMA