Bank Islam, Tabung Haji and Visa launch co-branded debit card-i
Last update: 12/02/2020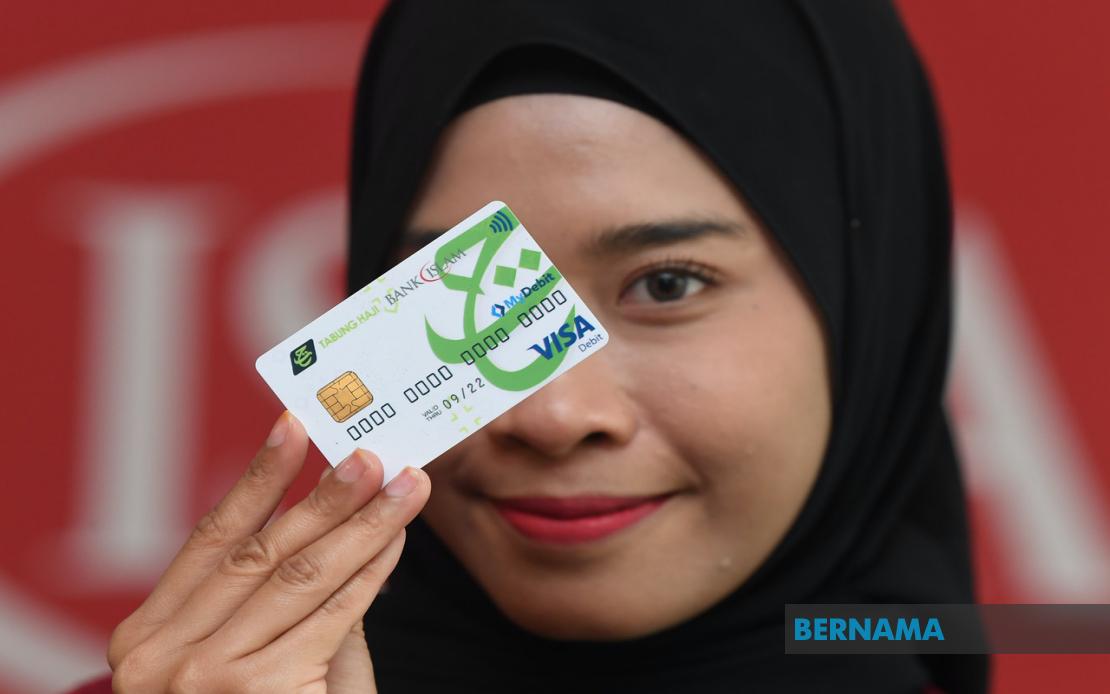 PUTRAJAYA, Feb 11 -- Bank Islam Malaysia Bhd (Bank Islam) has launched a new co-branded debit card-i in collaboration with Lembaga Tabung Haji (TH) and Visa that offers a variety of exclusive privileges and rewards to cardholders.
Bank Islam chief executive officer Mohd Muazzam Mohamed said as the pioneer in Islamic financial services in Malaysia, the bank's mission is to provide relevant financial solutions that meet the needs of stakeholders.
"We strive to continuously provide products and services that are in line with the latest technological developments and customers' preferences, without neglecting our social responsibilities and environmental sustainability.
"With this card, cardholders will have the opportunity to make payment transactions for purchases to over 60 million merchant locations and cash access at over 2.5 million self-service (ATM) terminals worldwide," he said in his speech at the launch of the Bank Islam Visa Tabung Haji Debit Card-i, here today.
Mohd Muazzam said for TH depositors, they could access funds by linking their TH's account with the card and make the transfer from the account to their Bank Islam current or savings account.
The Bank Islam Visa Tabung Haji Debit Card-i is an exclusive card that offers a variety of additional rewards, among others, cash withdrawal fee waiver in Saudi Arabia during the haj pilgrimage, special fares on KLIA Express Services, and exclusive discounts on packages by TH Travel & Services.
The Debit Card-i is different from other previous debit cards, as the card is the bank's first biodegradable card ever made, of which the material is made out of high-quality polyethylene terephthalate, which can be recycled and is durable towards chemical substances, including alkaline.
Introducing its Visa Debit Card-i in 2011, Bank Islam has issued more than three million debit cards as at January this year. Looking at the current market potential, the bank aims to achieve 100,000 Bank Islam Visa Tabung Haji Debit Card-i cardholders within a year.
Meanwhile, TH group managing director and chief executive officer Datuk Nik Mohd Hasyudeen Yusoff said TH is taking another step forward with the introduction of the Islamic Debit Card (TH Debit Card-i) as it will reduce the dependency of depositors on TH counter services.
"With this new service, TH depositors will be able to make transactions more conveniently, thank you to the Bank Islam team towards the commitment that you have shown through this initiative.
"TH will always try to improve and maintain our services towards our depositors and haj pilgrims so that this institution continues to be respected because of its good achievements and management. Hence, this will enable us to continue our services for generations to come," he added.
In his speech, Minister in the Prime Minister's Department Datuk Seri Mujahid Yusuf Rawa, who officiated the launch, congratulated Bank Islam and TH for the initiative in introducing the Debit-i TH as it will benefit the depositors and haj pilgrims.
"The introduction of the TH Debit Card-i will also enhance the level of Tabung Haji services to stay competitive and be on par with other Islamic financial institutions.
"Tabung Haji is a statutory body that is always concern of government initiatives that support efficient, transparent and convenient services," he said.
Speaking at press conference later, Mohd Muazzam announced that Bank Islam will provide up to six months temporary moratorium for the monthly installment payments of financing for individuals or business customers affected by the 2019 novel coronavirus outbreak.
"Bank Islam has been keeping abreast with the latest news and has actively engage its customers, who may be affected. We hope that this offer will help relieve their worries over their monthly financial commitments with an option up to six months moratorium on installment," he said.
-- BERNAMA