Finance Ministry: No insurance company making big bucks from mySalam
Last update: 21/08/2019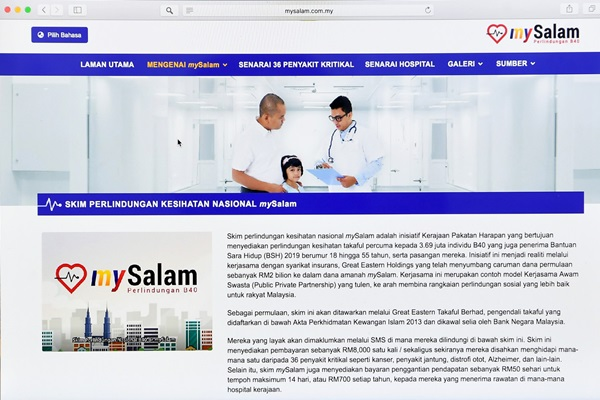 PUTRAJAYA, Aug 21 -- Not a single insurance company is profiting from the national health protection scheme, mySalam, asserted the Finance Ministry today.
In statement, the ministry said that paid premiums to Great Eastern Takaful Bhd that aren't claimed, as well as accumulated interest, are fully repaid to the mySalam trust fund.
"It is is a non-profit takaful scheme," the ministry said referencing an article published in Sinar Harian on Aug 19 alleging mySalam is a get rich quick scheme.
The scheme, launched in January and which provides coverage for 3.8 million Malaysians, is a collaboration between Great Eastern Holdings and the government, with the former contributing RM2 billion to the trust fund.
The scheme for the B40 group provides a one-off/lump sum payment of RM8,000 to those eligible if diagnosed with any of the 36 critical illnesses like cancer, heart disease and Alzheimer's.
It also comes with lost wages coverage of RM50 a day for a maximum of 14 days or RM700 per year if treatment is sought at a government hospital.
The ministry added that together with Bank Negara Malaysia, a comprehensive study and assessment was done to guarantee the rakyat would fully reap the benefits of mySalam.
For more information, visit www.mysalam.com.my.
-- BERNAMA