HL Assurance targets 12,000 "HLA FiT CI" policies by year-end
Last update: 19/02/2019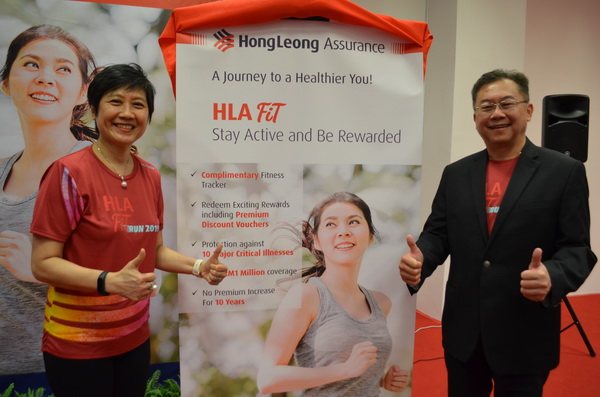 Hong Leong Assurance Bhd (HLA) CEO, Loh Guat Lan and HLA COO Loke Kah Meng giving the thumbs up after launching the HLA FiT apps at the HLA headquarters in Petaling Jaya, today. Pic: Sivanandini Narayanen and Nurul Hannah Mohd Yusof
PETALING JAYA, Feb 19 (Bernama) -- Hong Leong Assurance Bhd is optimistic it will have 12,000 policy holders by year-end for its HLA Fit CI (critical illness) insurance plan launched earlier this year.
"The response has been excellent with 1,000 policies signed up within 10 days of its launch," HLA chief executive officer Loh Guat Lan told a press conference after the launch of the HLA FiT application here today.
The affordable HLA FiT CI plan is tailor-made for young working people. For only RM3.30 per day, policyholders can enjoy coverage up to RM1 million and no medical check-up is required.
They will also receive a free Fitness Tracker and no increase in premium for 10 years.
Loh also said the HLA FiT application was linked to the HLA FiT CI insurance plan that provided protection for 10 major critical illnesses.
"HLA FiT is measured by the lifestyle and fitness of a person. If they continue to remain active, their biological age will be reduced and they will receive points weekly, which can be redeemed, for remaining active and premium discount vouchers," she said.
In conjunction with the launch, HLA Assurance would organise the maiden HLA FiT Run on March 10 simultaneously at the National Botanical Gardens (Shah Alam, Selangor), Wisma Boon Siew, Upper Penang Road (Pulau Pinang), Eco Botanical Town Gallery (Johor Baharu), Masjid Kampung Hulu (Melaka) and Tanjung Lipat City Mosque Kinabalu, Sabah).
"HLA FiT Run will also be held in conjunction with the launch of the first Biological Age Model integrated fitness application in Malaysia," she said, adding that the run would be held, annually, and would be expanded to other states including the east coast and Sarawak.
Besides, roadshows would also be held next month in Kuala Lumpur, Penang, Melaka and Johor Baharu to raise awareness for HLA Fit.
More information on HLA FiT Run and HLA FiT CI can be obtained from https://www.ticket2u.com.my/sport or by contacting 03-7650 1288 or visiting HLA branches, nationwide.
-- BERNAMA