Malaysian Re launches 2nd edition of ASEAN Insurance Pulse
Last update: 28/11/2018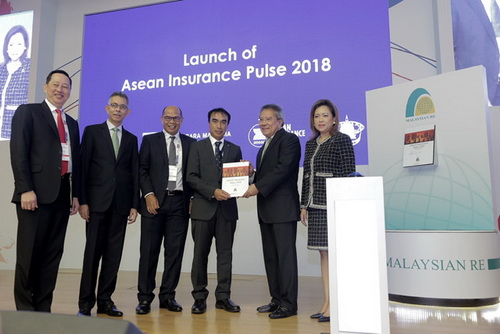 (From left) ASEAN Insurance Council Chairman Patrick Teoh, MNRB President & Group Chief Executive Officer Mohd Din Merican, Malaysian Re President & Chief Executive Officer Zainudin Ishak, Bank Negara Malaysia Assistant Governor Adnan Zaylani Mohamad Zahid, MNRB Group Chairman Datuk Sharkawi Alis and ASEAN Insurance Council Secretary General Evelina F. Pietruschka.
KUALA LUMPUR, Nov 28 (Bernama) -- Malaysian Reinsurance Bhd (Malaysian Re), a wholly-owned subsidiary of MNRB Holdings Bhd, together with Zurich-based research agency, Dr Schanz, Alms & Co., today launched the second edition of its annual regional Thought Leadership publication, ASEAN Insurance Pulse, at the 3rd ASEAN Insurance Summit 2018 here.
MNRB in a statement said that ASEAN Insurance Pulse 2018 was launched by Assistant Governor of Bank Negara Malaysia Adnan Zaylani Mohamad Zahid, and witnessed by MNRB Group Chairman Datuk Sharkawi Alis, MNRB President and Group Chief Executive Officer (CEO) Mohd Din Merican and Malaysian Re President and CEO Zainudin Ishak.
This year's edition of ASEAN Insurance Pulse is based on in-depth, structured interviews with 41 executives from all 10 ASEAN countries.
The 2018 edition shines a spotlight on the region's protection gaps and explores remedies to the gap between total economic disaster losses and the small fraction of those which are insured.
"The ASEAN Insurance Pulse 2018 pools together the region's insurance wisdom and insights to identify the root causes of protection gaps and solicits the participants for pragmatic solutions," said Zainudin.
"To most of the senior executives interviewed, non-life protection gaps are a severe threat to their respective countries' economic growth and societal progress.
"To close the gap between economic and insured losses, recommendations range from enhanced public-private partnerships, the introduction of subsidised schemes, provision of tax incentives and compulsory insurance requirements to awareness and education campaigns.
"We hope that with these suggestions and the intelligible findings, our second edition of the ASEAN Pulse will again provoke some deep, thoughtful and productive discussions, and contribute to the development of equitable protections for the ASEAN population," he added.
The second edition of ASEAN Insurance Pulse also offers an authoritative overview of the current state and prospects of the region's US$28 billion (US$1=RM4.19) non-life insurance markets.
Meanwhile, Dr Kai-Uwe Schanz, Chairman and Partner of Dr. Schanz, Alms & Company, said: "Taking the pulse of some of the region's key insurance executives who are highly attuned to protection gaps and their implications on the region's insurance markets and economies, this year's survey highlights the relevance of insurance as an effective means of risk mitigation and resilience building across ASEAN."
The ASEAN Insurance Pulse publication is a platform for Malaysian Re to underline its commitment in supporting the integration of the regional market place and providing its insurance community with an important benchmark for strategic and operational decision-making.
"We are convinced that this effort will ultimately benefit all market participants and enhance the prosperity of the ASEAN insurance landscape at large," said Zainudin.
-- BERNAMA